Superb injection moulded plastic gearbox tunnels at last.
The shape is excellent, more robust than glassfibre alternatives, and all the holes are moulded in the correct place - no fiddly fettling required with these!
You really need to see these in the flesh to see what an improvement they are over what's gone before. These won't fall to bits the first time you do a clutch change or a gearbox swap.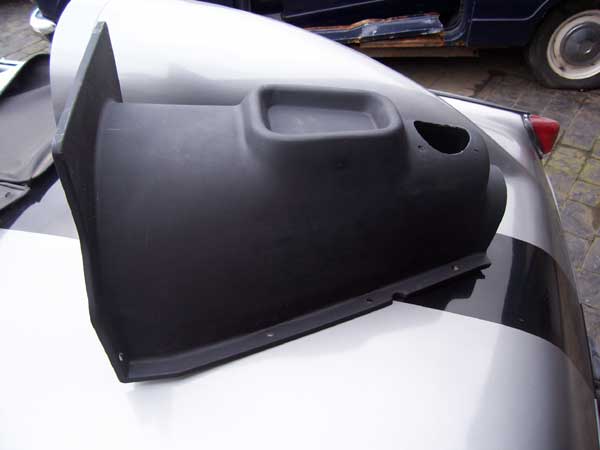 Spitfire 1500 / GT6 Injection Moulded Gearbox Tunnels
To add any of the in stock, built to order, or available to order items to your basket, please choose an order qty and then hit the add to basket button.
To make it easier for our overseas customers, you can now browse our website and view prices in over
PART NO.
DESCRIPTION
PRICE
EXCH.
SURCHARGE
UNITS
AVAILABILITY
ORDER QTY
XKC1673P
GEARBOX TUNNEL - SPITFIRE MOULDED PLASTIC
£92.75
EACH
OUT OF STOCK, AVAILABLE TO ORDER
709862P
GEARBOX TUNNEL - GT6 VITESSE PLASTIC
£110.25
EACH
OUT OF STOCK, AVAILABLE TO ORDER
611957K
GEARBOX TUNNEL SEAL
£7.95
EACH
IN STOCK
FU2545
SPIRE CLIP
£0.20
EACH
IN STOCK
YH6507
SCREW SELF TAP HEXAGON HEAD NO.10 X 7/8"
£0.25
EACH
IN STOCK
608383
RETAINING PLATE - GEARBOX TUNNEL
£1.92
EACH
IN STOCK
WP5
PLAIN WASHER - NO 10
£0.25
EACH
IN STOCK
613607
RETAINING RING
£8.95
EACH
IN STOCK
706919
GEAR LEVER GROMMET - SPITFIRE I-IV (EARLY)
£9.49
EACH
OUT OF STOCK, AVAILABLE TO ORDER
TCFK1
TUNNEL COVER FITTING KIT (INC.SEAL) SPIT/GT6
£19.98
EACH
OUT OF STOCK, AVAILABLE TO ORDER