Want to replace tired and or damaged seat belts or do you simply want to upgrade to inertia reels? We carry a full range of belts front and rear, to suit every application.
Each kit comes complete with all necessary bolts, nuts, washers, etc.
Please note
We do not recommend fitting anything but two point lap belts in the rear of any Herald or Vitesse - be it saloon, convertible, coupe or estate.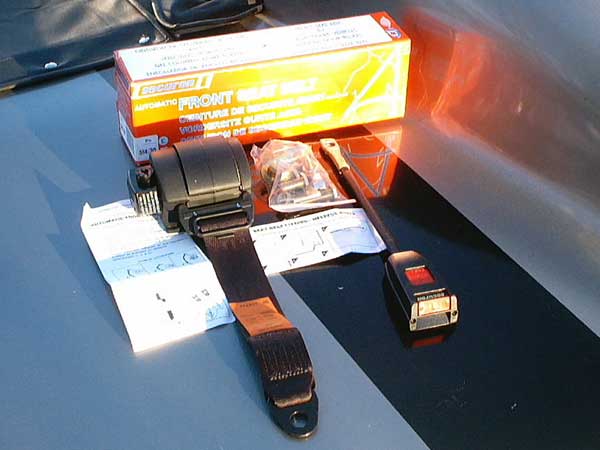 Seat Belts
To add any of the in stock, built to order, or available to order items to your basket, please choose an order qty and then hit the add to basket button.
To make it easier for our overseas customers, you can now browse our website and view prices in over
PART NO.
DESCRIPTION
PRICE
EXCH.
SURCHARGE
UNITS
AVAILABILITY
ORDER QTY
210
SEAT BELT - STATIC 2 POINT REAR (LAP BELT)
£19.50
EACH
IN STOCK
2540998223569
SEAT BELT - STATIC 3 POINT BRITAX NOS
£37.98
EACH
IN STOCK
254
SEAT BELT - INERTIA REAR DOLOMITE 2000/2.5
£38.60
EACH
IN STOCK
500/30
SEAT BELT - INERTIA HERALD VITESSE SALOON
£39.98
EACH
IN STOCK
514/30
SEAT BELT - INERTIA HER VIT CONVERTIBLE
£46.38
EACH
OUT OF STOCK, AVAILABLE TO ORDER
XKC2528Z
SEAT BELT - INERTIA SPIT GT6 1971 ONWARDS
£43.75
EACH
IN STOCK
621308
SEAT BELT EYE
£5.25
EACH
IN STOCK