$title

When the Triumph Competitions department needed alloy panels for their Le Mans and Rally cars they simply ran some alloy sheets through the factory production line presses. Inspired by this, we've done the same but using the modern repro steel panel tooling.
Pressed from 1.2mm aluminium, it's not possible to get lighter panels unless you remove them altogether! Do the sums yourself: O.E rear wing in steel weighs around 4kg, a fibreglass wing is 2 or 3 kg depending on who made it. Our alloy version weighs just under 1.5kg!
However, please note that these panels are intented for race/competition use only. Aluminium is a much softer material than steel and these panels will dent easily if abused. Obviously you can't weld them like you would a steel panel so we recommend 1/8" pop rivets and a good quality polyurethane adhesive/seam sealer such as Sikaflex or Tigerseal (available from most good motorfactors, it's the stuff they use to attach panels to modern cars.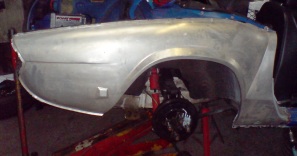 Alloy Rear Wing 2
To add any of the in stock, built to order, or available to order items to your basket, please choose an order qty and then hit the add to basket button.
To make it easier for our overseas customers, you can now browse our website and view prices in over
PART NO.
DESCRIPTION
PRICE
EXCH.
SURCHARGE
UNITS
AVAILABILITY
ORDER QTY
909663ALU
FRONT WING LH SPIT IV 1500 GT6 III ALUMINIUM
N/A
NO LONGER AVAILABLE

 

909664ALU
FRONT WING RH SPIT IV 1500 GT6 III ALUMINIUM
N/A
NO LONGER AVAILABLE

 

WKC2466ALU
REAR WING LH SPITFIRE MKIV 1500 ALUMINIUM
N/A
NO LONGER AVAILABLE

 

WKC2467ALU
REAR WING R/H SPITFIRE MKIV 1500 ALUMINIUM
N/A
NO LONGER AVAILABLE

 

706288ALU
A POST FILLER L/H ALUMINIUM
£32.98
EACH
IN STOCK
706289ALU
A POST FILLER R/H ALUMINIUM
£32.98
EACH
IN STOCK
706312ALU
D PLATE R/H SPITFIRE I-III GT6I-II ALUMINIUM
£24.98
EACH
IN STOCK
806638ALU
ALUMINIUM L/H INNER SILL SPITFIRE/GT6
£39.45
EACH
OUT OF STOCK, AVAILABLE TO ORDER
806639ALU
ALUMINIUM R/H INNER SILL SPITFIRE/GT6
N/A
NO LONGER AVAILABLE