We can supply various repair panels to fix the rot or accident damage on your car. We even manufacture some panels in-house. Most of these are sold on to the trade but you can also buy direct from us and save a few quid!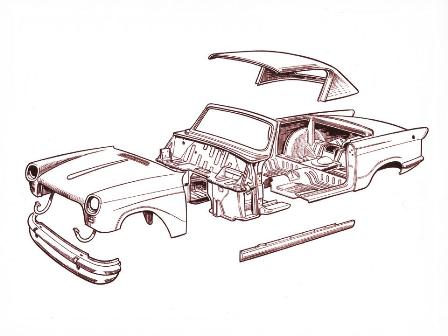 Herald / Vitesse Repair Panels
To add any of the in stock, built to order, or available to order items to your basket, please choose an order qty and then hit the add to basket button.
To make it easier for our overseas customers, you can now browse our website and view prices in over
PART NO.
DESCRIPTION
PRICE
EXCH.
SURCHARGE
UNITS
AVAILABILITY
ORDER QTY
M75
FOOTWELL REPAIR - HERALD VITESSE R/H
£62.00
EACH
IN STOCK
M76
FOOTWELL REPAIR - HERALD VITESSE L/H
£62.00
EACH
IN STOCK
M66
W/ARCH WING REPAIR REAR - HER VIT R/H
£37.63
EACH
IN STOCK
M67
W/ARCH WING REPAIR REAR - HER VIT L/H
£37.63
EACH
IN STOCK
M70
REAR WING FRONT - HER VIT R/H
£26.49
EACH
IN STOCK
M71
REAR WING FRONT - HER VIT L/H
£26.49
EACH
IN STOCK
M31
W/ARCH WING REPAIR FRONT - HER VIT R/H
£37.63
EACH
IN STOCK
M32
W/ARCH WING REPAIR FRONT - HER VIT L/H
£37.63
EACH
IN STOCK
M37
STRIP BETWEEN SIDELIGHT VITESSE
£11.60
EACH
IN STOCK
M47
DOOR SKIN REPAIR - HERALD VITESSE RH
£26.67
EACH
IN STOCK
M48
DOOR SKIN REPAIR - HERALD VITESSE LH
£26.67
EACH
IN STOCK
M49
DOORFRAME BOTTOM REPAIR RH
£34.58
EACH
OUT OF STOCK, AVAILABLE TO ORDER
M50
DOORFRAME BOTTOM REPAIR LH
£34.58
EACH
OUT OF STOCK, AVAILABLE TO ORDER
209012RH
CROSS TUBE END REPAIR - HERALD VITESSE RH
£27.98
EACH
IN STOCK
209012LH
CROSS TUBE END REPAIR - HERALD VITESSE LH
£27.98
EACH
IN STOCK