The little clip that holds the centre moulding (stainless steel trim) on to all Herald and Vitesse bonnets.
They are available individually, or slightly cheaper if you have a kit of 5, click on Part Numbers above.
The clip is fixed to the bonnet with a simple 1/8" rivet which is available separately if required.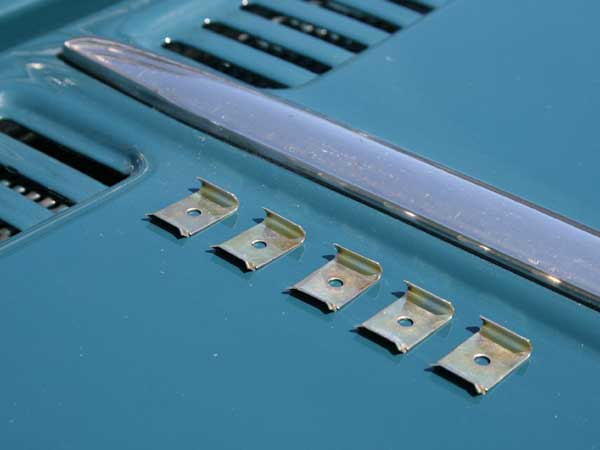 Herald / Vitesse Bonnet Trim Clip
To add any of the in stock, built to order, or available to order items to your basket, please choose an order qty and then hit the add to basket button.
To make it easier for our overseas customers, you can now browse our website and view prices in over
PART NO.
DESCRIPTION
PRICE
EXCH.
SURCHARGE
UNITS
AVAILABILITY
ORDER QTY
611504
CLIP - BONNET CENTRE MOULDING HERALD VITESSE
£0.35
EACH
IN STOCK
611504K
CLIP - BONNET CENTRE MOULDING (SET OF 5)
£1.70
CAR SET
OUT OF STOCK, AVAILABLE TO ORDER
RU608253
POP RIVET - 1/8"
£0.25
EACH
IN STOCK