We have made and we supply both types of original rim embellishers for the Herald and early Vitesse range.
Used in combination with the centre cap common to both types.
Which type do you have? All Heralds (less the estate) have 3 1/2 J wheels, all Vitesses and the Herald Estate have 4 1/2 J wheels. All early Spitfires originally came fitted with 3 1/2 J's.
Really makes a vast difference to the look of your car to have a nice set of shiny, straight wheel trims, get rid of those rusty/bent ones today!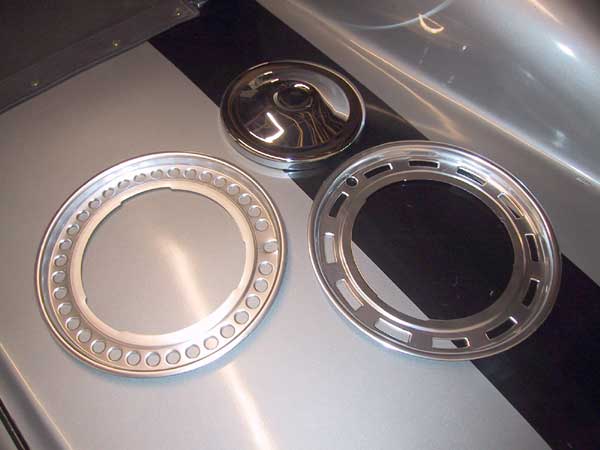 Herald and Vitesse Wheel Trims
To add any of the in stock, built to order, or available to order items to your basket, please choose an order qty and then hit the add to basket button.
To make it easier for our overseas customers, you can now browse our website and view prices in over
PART NO.
DESCRIPTION
PRICE
EXCH.
SURCHARGE
UNITS
AVAILABILITY
ORDER QTY
122806
HUB CAP - HERALD SPIT I-III VIT GT6 MKI
£31.00
EACH
IN STOCK
214492
WHEEL TRIM ROUND HOLE 3 1/2 RIM
£15.40
EACH
IN STOCK
214771
WHEEL TRIM ROUND HOLE 4 1/2 RIM
£15.40
EACH
IN STOCK
307583
WHEEL TRIM OBLONG HOLE FOR 3.5" RIMS
£15.40
EACH
IN STOCK
811419
WHEEL TRIM OBLONG HOLE FOR 4.5" RIMS
£15.50
EACH
IN STOCK
113087
WHEEL NUT - HERALD SPIT I-III GT6 I-II VIT
£1.19
EACH
IN STOCK