Let there be light!
Halogens are brighter and more efficient than the old sealed beams units - good for safety and makes driving at speed at night easier. They also feature removeable bulbs so you don't have to bin the entire unit when a bulb blows!
A direct replacement for the original sealed beam units, bulbs included.
Suits all H4 halogen bulbs
Fits all Spitfire/GT6 and Herald
Please Note
If fitting more powerful bulbs, you should consider adding relays to protect wiring.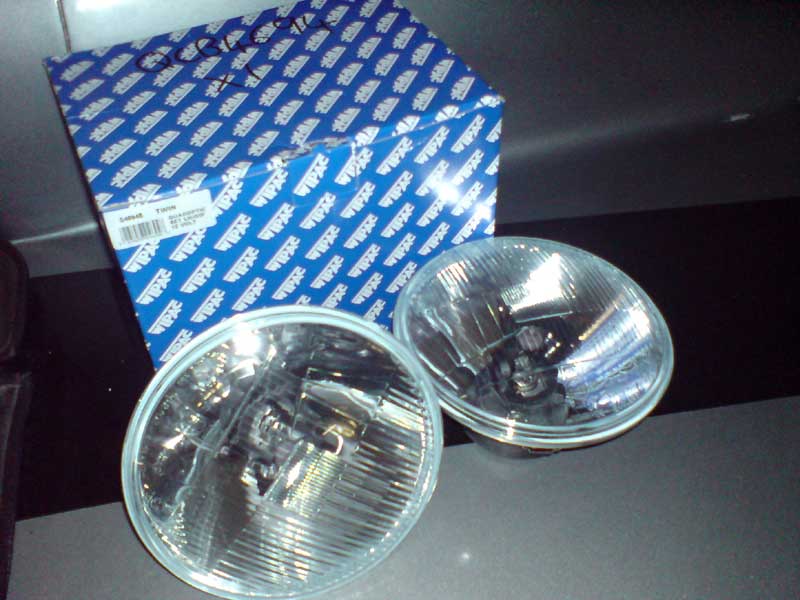 Halogen Conversion
To add any of the in stock, built to order, or available to order items to your basket, please choose an order qty and then hit the add to basket button.
To make it easier for our overseas customers, you can now browse our website and view prices in over
PART NO.
DESCRIPTION
PRICE
EXCH.
SURCHARGE
UNITS
AVAILABILITY
ORDER QTY
QCB4694
HEADLAMP KIT - HALOGEN 7" RHD
£45.06
PAIR
IN STOCK
QCB4695
HEADLAMP KIT - HALOGEN 7" LHD
£55.13
PAIR
OUT OF STOCK, AVAILABLE TO ORDER
GLB472
HALOGEN BULB H4 P43T 60/55W
£2.78
EACH
OUT OF STOCK, AVAILABLE TO ORDER
GLB476
HALOGEN BULB H4 P43T 60/55W YELLOW
£10.15
EACH
OUT OF STOCK, AVAILABLE TO ORDER
GLB484
HALOGEN BULB H4 P43T 100/80W
£1.85
EACH
IN STOCK
GLB486
HALOGEN BULB H4 P43T 160/99
£9.90
EACH
OUT OF STOCK, AVAILABLE TO ORDER