As we are British Motor Heritage Approved (see HERE), we can supply numerous repair panels that are manufactured from the original Triumph tooling.
In some cases, we also manufacture various repair panels for the Herald/Vitesse/Spitfire/GT6 in-house. Most of these are sold on to the trade but you can also buy direct from us and save a few quid!
The parts listed below are for Spitfire MKI/I/III and GT6 MKI/II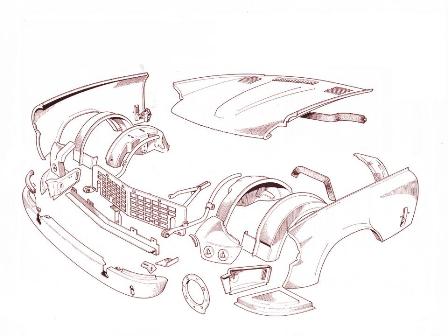 Early Spitfire / GT6 Repair Panels
To add any of the in stock, built to order, or available to order items to your basket, please choose an order qty and then hit the add to basket button.
To make it easier for our overseas customers, you can now browse our website and view prices in over
PART NO.
DESCRIPTION
PRICE
EXCH.
SURCHARGE
UNITS
AVAILABILITY
ORDER QTY
908900RH
HALF FLOOR - R/H SPITFIRE GT6
£192.12
EACH
IN STOCK
908900LH
HALF FLOOR - L/H SPITFIRE GT6
£192.12
EACH
IN STOCK
M140C
FLOOR CROSSMEMBER SPITFIRE/GT6
£39.29
EACH
IN STOCK
M164RP
REAR INNER WING REPAIR RH
£42.79
EACH
OUT OF STOCK, AVAILABLE TO ORDER
M165RP
REAR INNER WING REPAIR LH
£42.79
EACH
OUT OF STOCK, AVAILABLE TO ORDER
TS52ARH
A POST UPPER RH
£67.05
EACH
OUT OF STOCK, AVAILABLE TO ORDER
TS52ALH
A POST UPPER LH
£67.05
EACH
OUT OF STOCK, AVAILABLE TO ORDER
M289
A POST BOTTOM UP TO SILL RH
£52.06
EACH
OUT OF STOCK, AVAILABLE TO ORDER
M290
A POST BOTTOM UP TO SILL LH
£52.06
EACH
OUT OF STOCK, AVAILABLE TO ORDER
M189
A POST BOTTOM REPAIR RH
£9.15
EACH
IN STOCK
M190
A POST BOTTOM REPAIR LH
£9.15
EACH
IN STOCK
M154
REAR WING REAR REPAIR R/H SPITI-III GT6I-II
£18.99
EACH
IN STOCK
M155
REAR WING REAR REPAIR L/H SPITI-III GT6 I-II
£18.99
EACH
IN STOCK
M152
REAR WING FRONT RH SPITFIRE GT6
£32.67
EACH
IN STOCK
M153
REAR WING FRONT LH SPITFIRE GT6
£32.67
EACH
IN STOCK
M110
WING CORNER RH SPIT I-III GT6 I-II
£27.10
EACH
IN STOCK
M179
SIDELIGHT REPAIR - SPITI-II GT6 I R/H
£65.00
EACH
OUT OF STOCK, AVAILABLE TO ORDER
M180
SIDELIGHT REPAIR - SPITI-II GT6 I L/H
£65.00
EACH
OUT OF STOCK, AVAILABLE TO ORDER