The supply of reproduction badges seems to be improving, and we are expecting new stock on a regular basis.
Many of the badges listed here are still OE Stanpart originals, so you can be assured of quality.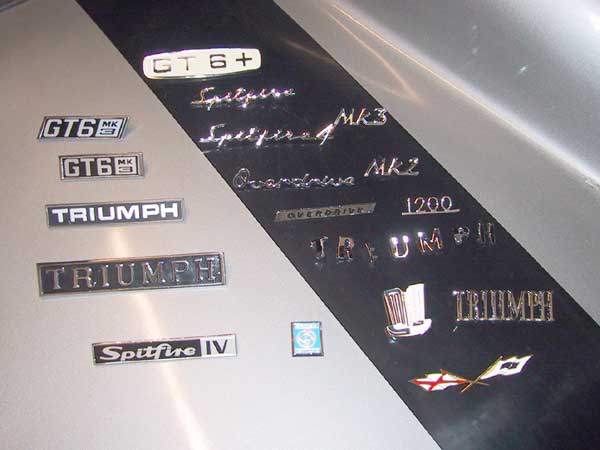 Badges
To add any of the in stock, built to order, or available to order items to your basket, please choose an order qty and then hit the add to basket button.
To make it easier for our overseas customers, you can now browse our website and view prices in over
PART NO.
DESCRIPTION
PRICE
EXCH.
SURCHARGE
UNITS
AVAILABILITY
ORDER QTY
603906
BADGE 'OVERDRIVE' SCROLL
£14.95
EACH
IN STOCK
605556
BADGE 'TRIUMPH' HERALD 948
£13.59
EACH
OUT OF STOCK, AVAILABLE TO ORDER
607760
BADGE CROSSED FLAGS
£25.83
EACH
OUT OF STOCK, AVAILABLE TO ORDER
608380
BADGE TRIUMPH SHIELD
£18.96
EACH
IN STOCK
725525
BL HOUSE BADGE
£5.16
EACH
IN STOCK
629426
BADGE '2000 MKII' REAR (SHOP SOIL)
£5.10
EACH
IN STOCK
611505
BADGE 'HERALD' 1200
£18.54
EACH
OUT OF STOCK, AVAILABLE TO ORDER
611526
BADGE '1200'
£14.37
EACH
OUT OF STOCK, AVAILABLE TO ORDER
611899
BADGE '6'
£9.98
EACH
OUT OF STOCK, AVAILABLE TO ORDER
612185
VITESSE BADGE
£14.98
EACH
IN STOCK
612190
BADGE 'VITESSE' SCRIPT
£20.62
EACH
OUT OF STOCK, AVAILABLE TO ORDER
613292
BADGE 'SPORTS'
N/A
NO LONGER AVAILABLE

 

613296
BADGE 'SPITFIRE 4'
£18.98
EACH
OUT OF STOCK, AVAILABLE TO ORDER
615702
BADGE 'TRIUMPH' CHROME SCRIPT 2000 MKI BOOT
£9.98
EACH
IN STOCK
618242
BADGE 'MK2' FOR SPITFIRE 4 MK II
£10.21
EACH
OUT OF STOCK, AVAILABLE TO ORDER
619860
BADGE 'GT6' GT6 MKI REAR
£25.00
EACH
OUT OF STOCK, AVAILABLE TO ORDER
620126
BADGE '2LITRE' SMALL
£15.00
EACH
OUT OF STOCK, AVAILABLE TO ORDER
620396
BADGE '2 LITRE' FRONT GRILLE
£16.87
EACH
OUT OF STOCK, AVAILABLE TO ORDER
621074
BADGE 'OVERDRIVE' VITESSE I
£16.87
EACH
OUT OF STOCK, AVAILABLE TO ORDER
621075
BADGE - BAR VITESSE I REAR
N/A
NO LONGER AVAILABLE

 

621467
BADGE 'MK3' FOR SPITFIRE III
£14.79
EACH
IN STOCK
621468
BADGE 'SPITFIRE' [MK3] SCRIPT
£22.08
EACH
IN STOCK
621852
BADGE 'TRIUMPH' RED L/H ROOF PILLAR HER/VIT
N/A
NO LONGER AVAILABLE

 

621853
BADGE 'TRIUMPH' RED R/H ROOF HERALD VITESSE
£9.98
EACH
IN STOCK
622260
BADGE 'TRIUMPH' REAR GT6 MKII
£27.50
EACH
OUT OF STOCK, AVAILABLE TO ORDER
622261
TR5PI BOOT BADGE
£27.50
EACH
OUT OF STOCK, AVAILABLE TO ORDER
622262
TR250 BOOT BADGE
N/A
NO LONGER AVAILABLE

 

622278
BADGE 'TR250' BONNET
N/A
NO LONGER AVAILABLE

 

622279
TR5 BONNET BADGE
N/A
NO LONGER AVAILABLE

 

622492
BADGE 'GT6+' FRONT
N/A
NO LONGER AVAILABLE

 

629425
BADGE '2500 MKII' REAR (SHOP SOIL)
£5.10
EACH
IN STOCK
721340
BADGE TRIUMPH 1500
£4.25
EACH
IN STOCK
GHF1532
BADGE FIX PLASTIC
£0.20
EACH
IN STOCK
623822
BADGE 'TRIUMPH' HERALD 13/60 2000/2.5 MKI
£29.95
EACH
OUT OF STOCK, AVAILABLE TO ORDER