Reduce stopping distances and never worry about brake fade again!
These kits will not only improve stopping power and consistency, but also reduce unsprung weight.
All required fittings are included, not other modifications are required.
The  Vitesse/GT6 kit (BRAKE2) includes a pair of our billet aluminium caliper mounts to convert to the required caliper spacing.
PLEASE NOTE
This kit will NOT fit cars using standard steel rims (13" dia.), check caliper clearance on 13" alloy wheels.
14" and larger alloys will not have clearance issues.
4-pot Racing Caliper Technical Specification
Caliper Material: 2 piece die cast Aluminium alloy featuring 'quick change' pad fittings and 'anti-rattle' pad clips
Piston Dia.: 38.1mm x 4
Piston Material: Aluminium Alloy with plastic/rubber dirt seal
Caliper weight: 1.8kg (std. GT6 caliper: 4.5Kg!)
Vented Disc Technical Specification
Design: Vented disc with integrated bell.
Outer Dia.: 254mm
Kit Contents
2 x 4-piston alloy calipers
2 x Vented brake discs
Fixtures and fittings - Caliper mounting bolts, spring washers, disc mounting bolts
Alloy Caliper Mounting Brackets (Vitesse/GT6 only)
Custom Braided Hoses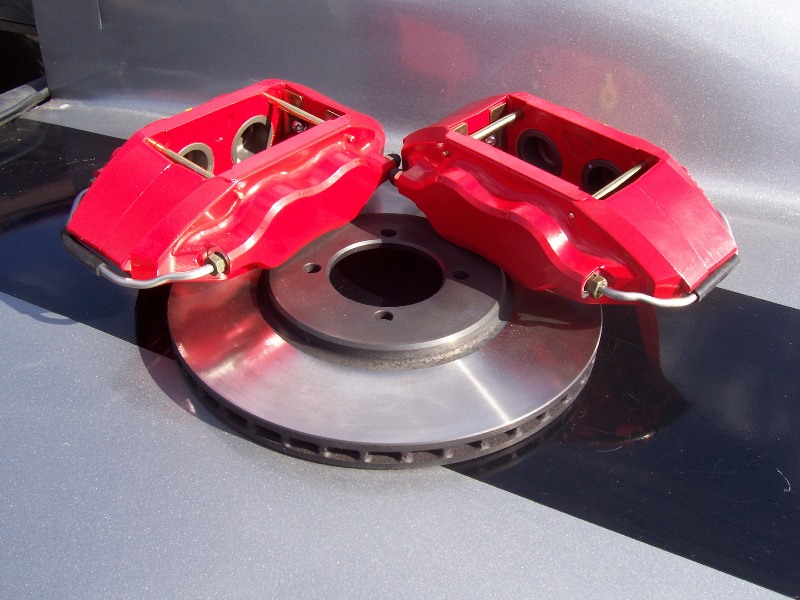 4-pot Big Brake Kit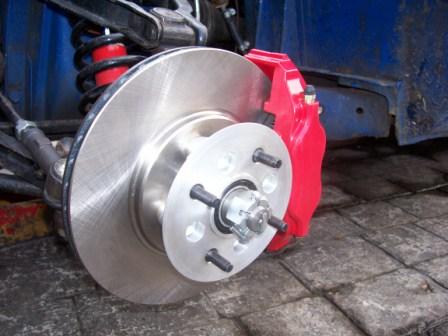 4-pot Big Brake Kit
To add any of the in stock, built to order, or available to order items to your basket, please choose an order qty and then hit the add to basket button.
To make it easier for our overseas customers, you can now browse our website and view prices in over
PART NO.
DESCRIPTION
PRICE
EXCH.
SURCHARGE
UNITS
AVAILABILITY
ORDER QTY
BRAKE1
BIG BRAKE KIT - SPITFIRE III-1500 13/60
£397.32
CAR SET
BUILT TO ORDER
BRAKE2
BIG BRAKE KIT - GT6 VITESSE
£516.46
CAR SET
BUILT TO ORDER
16-00
BRAKE PAD SET - 4 POT - MINTEX 1144
£87.26
AXLE SET
IN STOCK
AP4525/CP620
4 POT CALIPER REBUILD KIT (SEALS & PISTONS)
£59.00
EACH
OUT OF STOCK, AVAILABLE TO ORDER