Lightweight aluminium water pumps to compliment our aluminium water pump housings.
New design and construction utilising modern sealed for life bearings and a new high efficiency alloy impellor.
These pumps weigh less (<1KG compared to 2.5 kg!), last longer and are more efficient than the cast iron originals.
We often get asked if these pumps are rebuildable - they are, and we have added bearings, and seals below should you ever need them.
Please note!
These items will not fit the Triumph TR4 series of engines.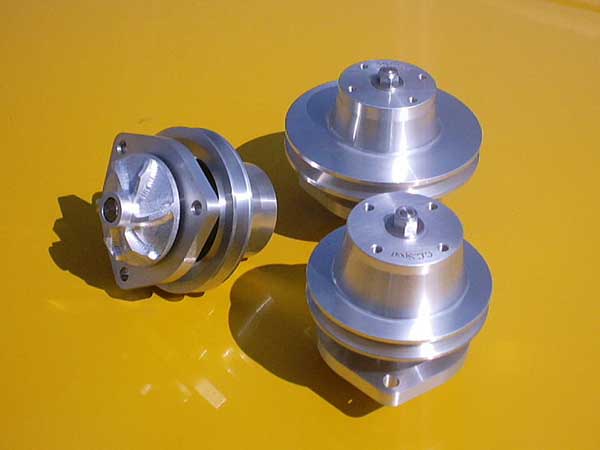 Alloy Water Pumps
To add any of the in stock, built to order, or available to order items to your basket, please choose an order qty and then hit the add to basket button.
To make it easier for our overseas customers, you can now browse our website and view prices in over
PART NO.
DESCRIPTION
PRICE
EXCH.
SURCHARGE
UNITS
AVAILABILITY
ORDER QTY
GWP200A
WATER PUMP - SPIT I-III HERALD ALUMINIUM
N/A
NO LONGER AVAILABLE

 

GWP201A
WATER PUMP - GT6/VIT 2000/2.5 TR5/6 ALUMINIUM
N/A
NO LONGER AVAILABLE

 

138701
GASKET - WATER PUMP TO HOUSING
£0.50
EACH
IN STOCK
144297A
WATER PUMP HOUSING - HERALD SPITFIRE ALLOY
£109.98
EACH
OUT OF STOCK, AVAILABLE TO ORDER
307095A
WATER PUMP HOUSING - VIT GT6 TR5-6 2.5 ALLOY
£89.75
EACH
OUT OF STOCK, AVAILABLE TO ORDER
6202ZZ
BEARING FOR ALLOY WATER PUMP
£9.05
EACH
IN STOCK
100858
WATER PUMP SEAL
£9.10
EACH
IN STOCK