Quality polished alloy rocker cover for both 4 cylinder and 6 cylinder Triumphs, at prices you won't believe!
Comes complete with chromed filler cap, and chromed fixing nuts/washers. (Later Spitfire 1500's will need to fit longer rocker cover fixing studs - 2 x 105123, available separately.)
Makes a vast improvement to your under bonnet appearance, no more rusty, misshapen and dented tin original!
Please note!
The standard 6 cylinder alloy rocker cover is an extremely tight fit on all models of GT6. We have fitted, and have seen others fit them with no problem, but we are aware that some have struggled.
The 4 cylinder Rocker Covers WILL NOT fit TR2-4A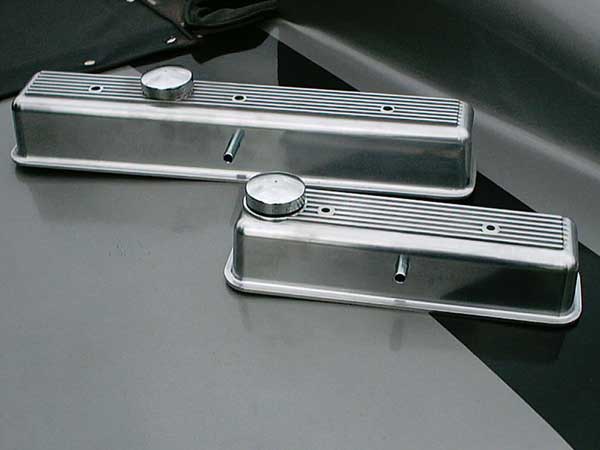 Alloy Rocker Covers
To add any of the in stock, built to order, or available to order items to your basket, please choose an order qty and then hit the add to basket button.
To make it easier for our overseas customers, you can now browse our website and view prices in over
PART NO.
DESCRIPTION
PRICE
EXCH.
SURCHARGE
UNITS
AVAILABILITY
ORDER QTY
GAC4067
ROCKER COVER - SPITFIRE HERALD ALLOY
£39.98
EACH
OUT OF STOCK, AVAILABLE TO ORDER
GAC6004
ROCKER COVER - 6 CYLINDER ALLOY
£78.75
EACH
IN STOCK
GEG414
ROCKER COVER GASKET - 4 CYLINDER
£2.10
EACH
IN STOCK
GEG413
ROCKER COVER GASKET - 6 CYLINDER
£4.15
EACH
IN STOCK
105123
STUD - ROCKER COVER
£1.90
EACH
OUT OF STOCK, AVAILABLE TO ORDER