Caliper mounting brackets have been unavailable new for a long time. We thought we would reproduce them but with a twist!
These new caliper mounting brackets retain the strength of the standard iron versions, but at almost half the weight.
Designed using CAD & FEA and machined from a billet of aerospace spec. 2024 aluminium alloy for strength, and anodised for a shiney corrosion proof finish, they will reduce all important unsprung weight as well as looking good.
Also useful for anyone converting their early Herald from drums to discs
There are two types of bracket available, one with Type 12/14 caliper mountings and one with Type 16 caliper mountings. Both types can be interchanged between early Herald and Vitesse/GT6 vertical links to allow different spacings for various brake upgrades.
The Type12/14 brackets have a 3.25" caliper bolt spacing, Type 16 is 3.5"
Available direct from us, or from one of our trade outlets.
Price shown is for a PAIR of brackets!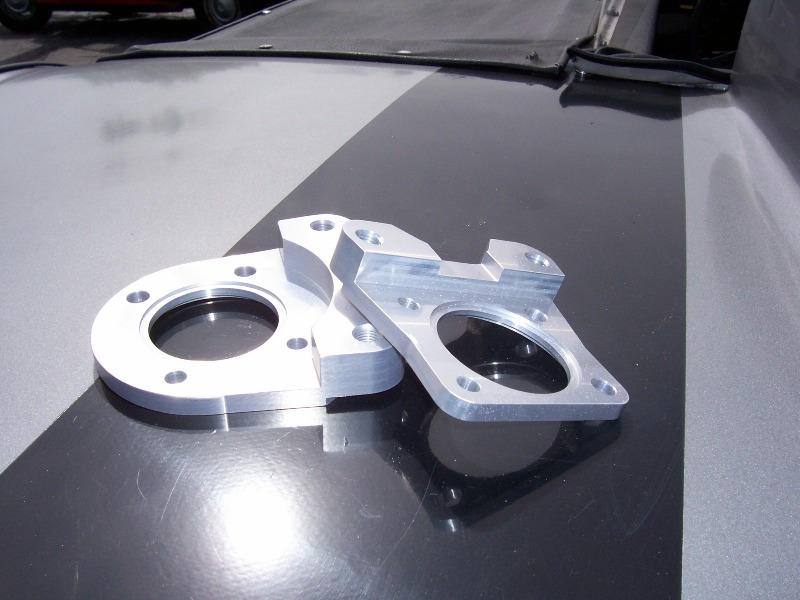 Type 16 bracket shown on left, Type 14 on the right
To add any of the in stock, built to order, or available to order items to your basket, please choose an order qty and then hit the add to basket button.
To make it easier for our overseas customers, you can now browse our website and view prices in over
PART NO.
DESCRIPTION
PRICE
EXCH.
SURCHARGE
UNITS
AVAILABILITY
ORDER QTY
210892/3A
CALIPER MOUNTING BRACKETS - TYPE 12/14 ALLOY
£135.00
PAIR
IN STOCK
145106/7A
CALIPER MOUNTING BRACKETS - TYPE 16 ALLOY
£149.00
PAIR
OUT OF STOCK, AVAILABLE TO ORDER
133499/500A
CALIPER MOUNTING BRACKETS - TR4A-6 ALLOY
N/A
NO LONGER AVAILABLE

 

132439
CALIPER MOUNTING BOLT - SPIT HER VIT GT6
£1.49
EACH
IN STOCK
158713
CALIPER MOUNTING BOLT - 16PB METRIC (GT6)
£6.79
EACH
OUT OF STOCK, AVAILABLE TO ORDER
113142
CALIPER MOUNTING BOLT - TR5/6 IMPERIAL
£1.85
EACH
IN STOCK
158668
CALIPER MOUNTING BOLT - TR6 METRIC
£4.15
EACH
OUT OF STOCK, AVAILABLE TO ORDER
WL210
SPRING WASHER - 7/16
£0.20
EACH
IN STOCK
138051
SEAL - MOUNT PLATE TO VERTICAL LINK
£0.60
EACH
IN STOCK